Hi everyone! It has been a few months since I have participated in the What's Up Wednesday link up with  Shay, Sheaffer, and Mel.   Now that the kids are back in school, I am starting to catch my breath and I have a little more time to dedicate to blogging.  It's nice to look back on the month and review some of the highlights! It is hard to believe that August started with a lot of #beachlife time and has ended with all the #schoolife time. Feel free to link up with these three ladies with your August Favorites!
*Some affiliate links used.
What we're eating this week….
With school in session, I am finding it easier to stick to a weekly meal plan. It's nice to have a game plan for the week instead of scrambling to come up with something at 4 o'clock!
This week's menu includes:
BBQ Chicken
Fish Tacos with this yummy Peach Salsa with Cilantro and Lime
Sesame Chicken in the Crockpot (new recipe from HERE)
Homemade Pizza
Something on the Grill (Hamburgers, Hot Dogs and Salmon burgers)
Also this week, my youngest and I have been in the kitchen a lot. With him in half day kindergarten we still have several hours together before everyone else comes home. While he'd rather I play trains and cars with him, sometimes I can convince him to spend time in the kitchen with me. Fortunately he loves to bake!
We made our favorite whole wheat pumpkin muffins–a double batch so it will last awhile! We make these muffins all year long–not just pumpkin season!
Also, we tried out a new bread recipe from one of my favorite bloggers, Nesting with Grace. She has the cutest free recipe printable on her blog that I printed out for our kitchen. I love this little addition!
Speaking of food, I have mentioned this service before, but I am still loving Instacart! I have been using the grocery delivery service for over a month and I am hooked! All week long, I can add items to my grocery list and then when I am ready to order, my list is all set! Lately, I've ordered our groceries for Sunday or Monday morning and have a full fridge for the school week! Instacart keeps track of what you have purchased in the past, so it is easy to reorder the same items. (I love this feature!). You can use my affiliate link for $10 off your first order!
What I'm wearing…
Well, it's been a few very hot weeks, so we are still in our summer clothes. Fall is my very favorite season for clothes–bring on the comfy cardigans and leggings!
The past weekend, I got a cute and cozy top at Athleta. It is medium thickness sweatshirt made out of a super soft brushed material.
I liked the little criss cross detail that makes it a little more than your basic sweatshirt. I'll be wearing this top on the first day below 70 degrees:)
Criss Cross Sweatshirt (Currently on sale)
I was shopping with a girlfriend and she bought this super soft wrap in this color! So perfect for fall! If I didn't already own two of these Studio wraps from Athleta I might have considered this one. These are the kind of tops I reach for all Fall and Winter long.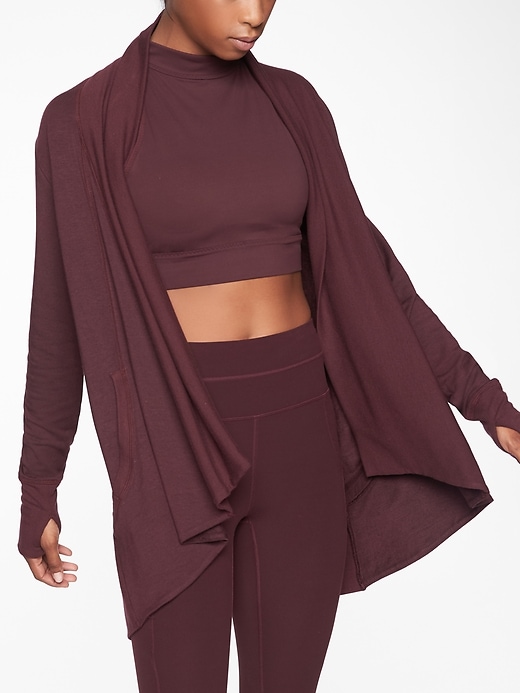 What I'm dreading…
All the kids activities that start back up again! We have been enjoying this last month with relatively few kids' commitments! It is so nice to have leisurely evenings and to get to have lots of family dinners. We are doing our best this fall to be very mindful and intentional with which activities the kids pick. We really want the kids to be able to play outdoors, decompress and just have fun each and every day! When you add in homework and activities–the opportunity for unscheduled time can be limited!
What I'm looking forward to…
Now that we've got a few weeks of school under our belt, the desire to remain in the summer season is starting to fade! Fall is a great season in the Midwest! I am looking forward to fall recipes (I just created a new Fall Recipes Pinterest board). Plus, I love all the cozy things associated with Fall–bonfires, blankets, candles and warm coffee!
We love S'Mores season!! This past weekend we tried S'mores using two cookies instead of graham crackers–amazing!!
This week, I saw that Starbucks rolled out their PSLs for the season. I have to admit (gulp) that I might be the only person who does not like the taste of PSLs (too sweet!). But, I do love a lot of other things Pumpkin! Last year, I shared this post on some of my pumpkin favorites and I am planning on an updated post very soon!!
What I am working on….
In case you didn't catch my post yesterday, I am working on all things ORGANIZATION! There is something about this back to school time of year that I want to get our family completely organized!
Last week, I worked on a family organization wall! I'm hoping the kids will get used to going to this space to see what's coming up for the week, keeping track of their chores and turning in papers that require my signature!
My kids wanted to get back to our chore charts, so we are giving it a go again! My husband and I really want to teach the kids good money management skills, so part of that comes with having their own money to manage! I'd love to hear your tips on allowances…it always seems to be an important topic for parents!
What I am reading…
While on vacation earlier this month, I finished two books The Baker's Secret and And the Mountains Echoed. Both were awesome, page turner reads!
The Baker's Secret was another WWII book but told from the perspective of villagers living in Normandy, France. It was yet another intense book but worth the read!
I have to say that And the Mountains Echoed was my favorite of the two books. Written by the same author as Kite Runner and A Thousand Splendid Suns, this book was a hearth wrenching tale about many different kinds of relationships (siblings, parents, cousins, etc.). There were a lot of relationships to follow but it was great to see how all the relationships intertwined with one another. If you haven't read this Khaled Hosseini book I definitely recommend it!
Sadly, I have not made time to read anything else since our trip! I'm hoping that this cozy fall season will allow for more chances to snuggle up with a book. What is on our reading list these days?
Bonus Question: What are your back-to-school traditions?
If you read my posts last week, you know we have A LOT of back to school traditions. I shared all of ours in this post. My favorite tradition is probably our back to school dinner (usually Brinner for us!).
*********************************************************************