Calm and Bright Christmas Lights Home Tour
Happy Thursday! Can you believe we are nearing the end of another week of the holiday season. I say it every year, but the holidays fly by! One of my favorite things about the holiday season is having a cozy and decorated home. I love the twinkly lights that give the home a warm glow. So, I am so excited about today's post! I have teamed up with FOURTEEN home decor bloggers to share our holiday homes at night! Thanks so much to my friend Brittany from Our Home Made Easy who is hosting today's Christmas light home tour!
*Some affiliate links used.
Calm and Bright Christmas Lights Tour
Since I have already shared most of my Christmas Home Decor, which you can read about over HERE, I am sharing our Christmas trees with you!
As much as I love being out and about during the Christmas season, my favorite thing to do is to snuggle on the couch under a warm blanket and watch movies. We moved our family room around this year, so now we are able to get a perfect view of our Christmas tree:) I am already wondering how we will fill this spot once the tree is down!
I have never been too fussy over our tree and I prefer to let my family take the lead on what goes on it. This year the kids and I my husband decorated the tree while I decorated the house. It was a win win!
Some years, I use ribbon as garland but this year I found these pretty red beads. The strands add a nice pop of color but they don't cover up the ornaments like ribbons can sometimes do. 
We like our Christmas tree ornaments to tell our story. No particular theme going on our tree! Our ornaments are handmade, store bought, vintage, souvenirs etc.
A few of my favorites include:
This little bird in a nest that one of the kids made in school. According to legend (in Germany, Sweden and Iceland), it is good luck to find a bird's nest in your Christmas tree. Since we have a faux tree, this is the only bird's nest we will find:)
Another favorite is this I Spy ornament my youngest brought home from preschool last year! This would be a fun ornament to gift to others!
My husband and I also have some ornaments from our childhood. We have so many ornaments, that not all of them make it on our Christmas tree. But I spotted one of my favorites from my childhood. I loved Snoopy:)
New ornaments are also fun! My stepmom got my daughter this adorable cupcake food cart for Christmas.
`
I love ornaments that remind us of special trips or occasions. One year my mom gave me this shopping bag as a reminder of our annual mother daughter shopping trip.
We also have a few ornament collections. Every year my daughter gets an Eiffel Tower ornament in her stocking. Some day she can have a Christmas tree filled with all of her Eiffel Towers!
Perhaps some day our Christmas tree will have a "theme" but for now our family friendly tree is perfect.
Now, on to the Christmas tree in the kids' rooms!
The tree in the boys shared room is bright and colorful. Most of the ornaments on their tree are ones that have been given to them.
This year, we have the addition of the toy train and the boys love it! 
It is so peaceful to come into their room and night and see the tree shining bright. Every Christmas Eve, the three kids have a slumber party in the boys room. Even though my daughter is getting older, she is still happy to keep this tradition going.
My daughter's Christmas tree is just as bright but a little more girly:) She styled her tree on her own and I love her little set up.
She has a small white tree and we keep it simple with colorful mini ball ornaments. The addition of her Ukele by the tree is just too cute.
Ukulele 
Sidenote: If you have a tween or teen, a Ukulele is a fun gift! My daughter asked for one for her last birthday and she loves it. It is a very affordable option and it is actually not a hard instrument to learn. There are a ton of how to videos on YouTube. She has this one and it is a perfect starter kit!!
Our final tree, is a little boxed faux one that we have in our dining room. We can see it from everywhere on the first floor, so it adds a nice festive touch!

That wraps up my home tour at night. If you would like to see the rest of our house decorated for the holidays, head over to read about our Cozy Christmas Home! Then, be sure to check out the other fourteen home tours! Grab yourself a cup of coffee and then spend some time touring these beautiful homes!
Shop the Post
[show_shopthepost_widget id="3406432″]
CHECK OUT ALL THE OTHER MERRY & BRIGHT CHRISTMAS LIGHT HOME TOURS HERE!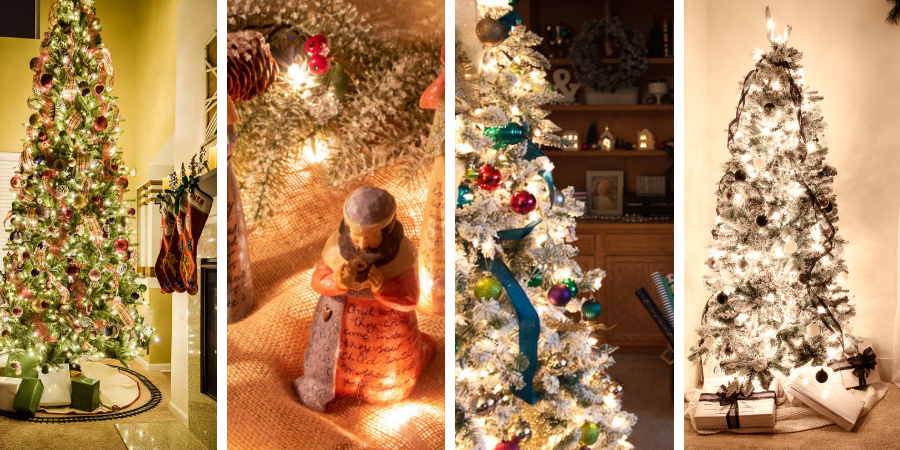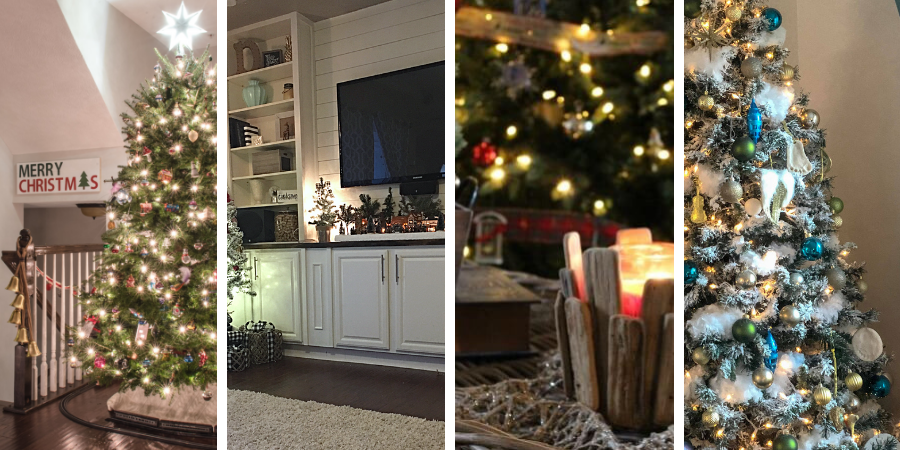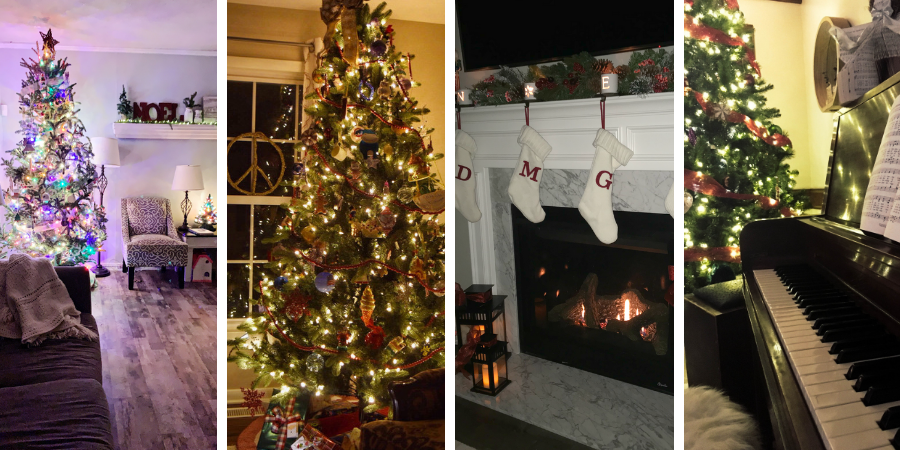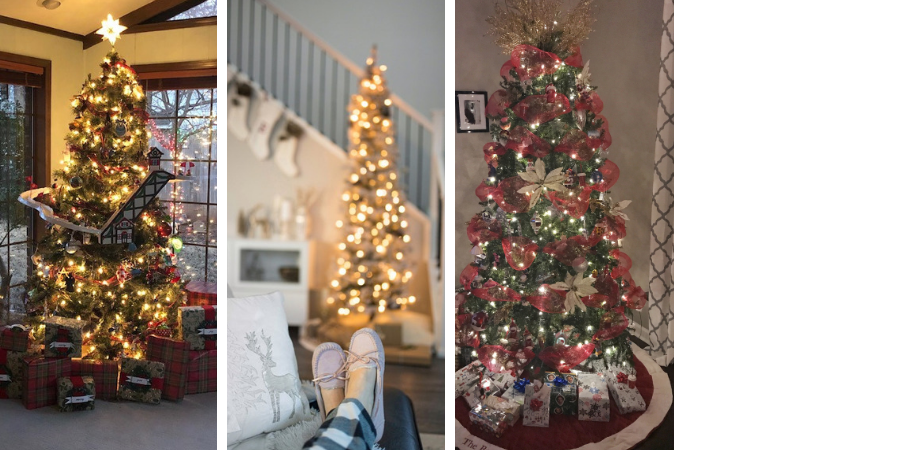 *******************************************************