Happy Wednesday! I had all intentions of recapping my getaway with my mom last week but things got in the way! So, I am excited to chat about our mother daughter shopping trip today! Each year,  we spend a few nights away shopping until we drop and just getting some uninterrupted time together! We found a lot of good fall clothes and fortunately we scored some great deals. Today, I'll share some of our favorite fall clothing purchases!
*Some affiliate links used.

We, unintentionally, had a coordinating color theme:)
Fall Shopping Trip Recap
We always leave in the late afternoon on Friday and then, as soon as we get into town, we shop until the stores close! We started at some of the discount stores including Homegoods, Marshalls and Nordstrom Rack.
We weren't on the hunt for anything in particular in the way of home decor but it's always fun to get inspiration! I shared some of my favorite home decor finds on our trip in last week's Friday Favorites post!
My mom was checking out all of the beautiful rugs!
One of the clothing items on my shopping list was a pair of workout pants and I found a pair at Nordstrom Rack. These high waisted Z by Zella leggings are perfect for fall! You can spend so much money on workout clothes, therefore, I was happy to find these pants at a bargain!
I also scored this brown vegan material purse at Marshalls. My mom liked it so much she got the same one in black! At just under $30 it was a great deal!
I typically use a back pack or a cross over bag, but I am excited to have this handbag option!
Saturday, we were up early and we went to the nearby the big outdoor mall. This place has pretty much every store you could think of!
My mom and I always come with a list of things we are looking for….although we sometimes stray from the list too:)
I was on the lookout for cute, casual clothes that I can wear every day.
This coffee tee at Evereve was calling my name (I mean how fitting for a coffee loving mom?!)
I think I'll be wearing this top on repeat especially with my favorite BP cardigan (on sale!)
My mom also found this cute striped sweater at Evereve. It's a perfect sweater to wear now especially since the temperatures have dropped!
I was also on the hunt for a few workout tops. Most days I live in my workout gear all day until I'm "forced" to put on real clothes...or change into pajamas. Can anyone else relate?!
This gray racer back tank from Athleta works well with my new Zella pants.
I love the mesh detail on the back and the top is currently on sale!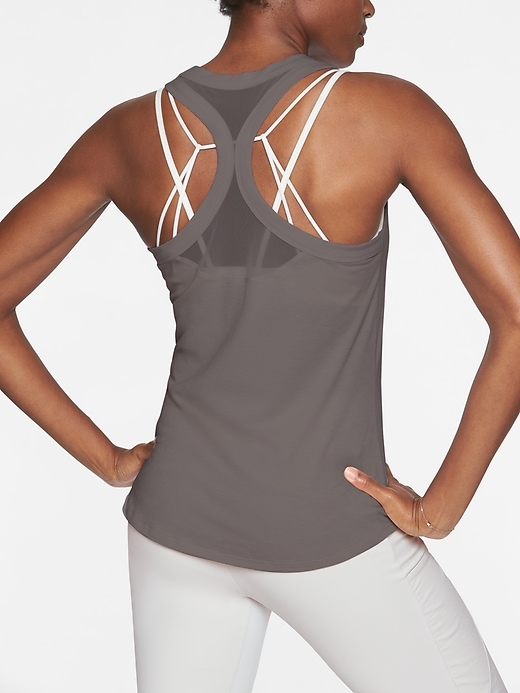 Then, I found this gray pullover from Athleta. So soft and comfy!
Gray Athletic Pullover
I found so many cozy and versatile pieces at Athleta but I didn't want to spend my whole budget there:)
I rarely shop at American Eagle but I decided to give it a try.  We found a lot of nice tops! This pink sweatshirt is a super cozy and casual but just a little step up for a very basic sweatshirt. It will be perfect with my new Spank leggings I purchased in my Trendsend box!
Soft and Cozy Sweatshirt
My mom and I also got these thermal tops from American Eagle. The tunic length is perfect for leggings. I am always looking for "legging appropriate"  tops (aka cover the booty kind of tops)!
Thermal Tunic
My final purchase of the day were these black high rise jeans from Gap. You might remember I LOVED these high waisted black jeans I received in my last Trendsend box. However, I did not love the price tag. (gulp!). So I found these jeans at the Gap that were just as soft and stretchy as the Evereve pair. At almost a $100 less (there is always a Gap sale!) than the Evereve pair, I could not pass these up!
High Rise Skinny Jeans
This year's shopping trip was all about the basics! Some years I am on the hunt for a new pair of boots or a new coat. But this year, my search was all about casual, every day outfits that I can wear on repeat all winter long!
Shopping Wrap Up
After almost two days of shopping and logging many miles on our feet (Saturday we clocked in over 15, 000 steps), we were tired and happy! Our final day, Sunday morning, we took our time getting moving (our legs were so tired!) and we spent the morning reviewing all of our purchases.
On our way out of town we stopped at Ikea and leisurally strolled through the store! We didn't have it in us to do any more serious shopping. Not to mention we spent our budget! So we just enjoyed the last few hours together and then headed home!
As usual, it was a fun and memorable mother daughter shopping trip! I am grateful that we have this long standing tradition that continues to go on through the years!
***************************************************************************
I am linking up with some fabulous bloggers over at The Blended Blog.  Be sure to check out more What I Wore Wednesdays styles!
If you are a new visitor to the blog, thanks for popping by! Feel free to join me on Facebook, Instagram and Bloglovin! Also, if you love all things Homegoods, Marshalls and other home decor stores, be sure to join our Homegoods Happy Facebook group!