Sheet Pan Dinners are an easy and quick way to get dinner on the table! You can whip up a delicious dinner in minutes, with minimal preparation required.The best part is that clean up is a snap! Here are 8 Sheet Pan Dinner Recipes to try this week.
8 Sheet Pan Meal Ideas
I recently came to the conclusion that I love sheet pan dinners! While I've been making  some versions of sheet pan meals for years, it isn't until now that I realized why I love them so much. First, these meals do not require a lot of preparation. You just have to chop and season everything before putting it all on a pan. Also, you can customize these meals to whatever you have on hand and whatever your family likes to eat. Once you put the pan in the oven, you can forget about it until it is one. Okay, maybe you need to check on it and stir around once in a while. But, these meals are really low maintenance.  Finally, clean up could not be easier! Mom tip: I highly recommend using parchment paper on your sheet pan.
I like to chop everything up earlier in the day and store in a covered bowl, until I am ready to make dinner.
1. Cajun Style Sausage, Potatoes and Peppers Sheet Pan Dinner
This Cajun inspired sheet pan dinner is a new family favorite. You can adjust the seasoning depending on how spicy you like your dinner. We made this dish with a jalepeno chicken sausage for an extra kick!

You can easily swap out the type of sausage and veggies you have on hand. I recommend not skipping the red onions though as they make the dish so tasty!
Cajun Sausage, Potatoes and Peppers Baking with Josh and Ange
2. Ground Beef or Chicken Sheet Pan Nachos
Sheet pan nachos are one of my favorite meals to throw together. I will admit that I rarely follow a recipe for this meal. We start with nachos and add whatever cooked meat we have on hand. Then, we top with cheese, peppers and onions. This meal is a great because you can customize based on what everyone in your family likes. If someone doesn't like veggies, leave it off part of the pan. Everyone can add their favorite toppings when the pan comes out of the oven. Some of our favorite toppings include avocado, cilantro, green onions, salsa and sour cream!
If you like to follow a recipe, check out this Chicken Nacho Sheet Pan Dinner from Love & Zest. I love the addition of black beans and corn. This would be a filling dinner!
Chicken Nacho Recipe Love & Zest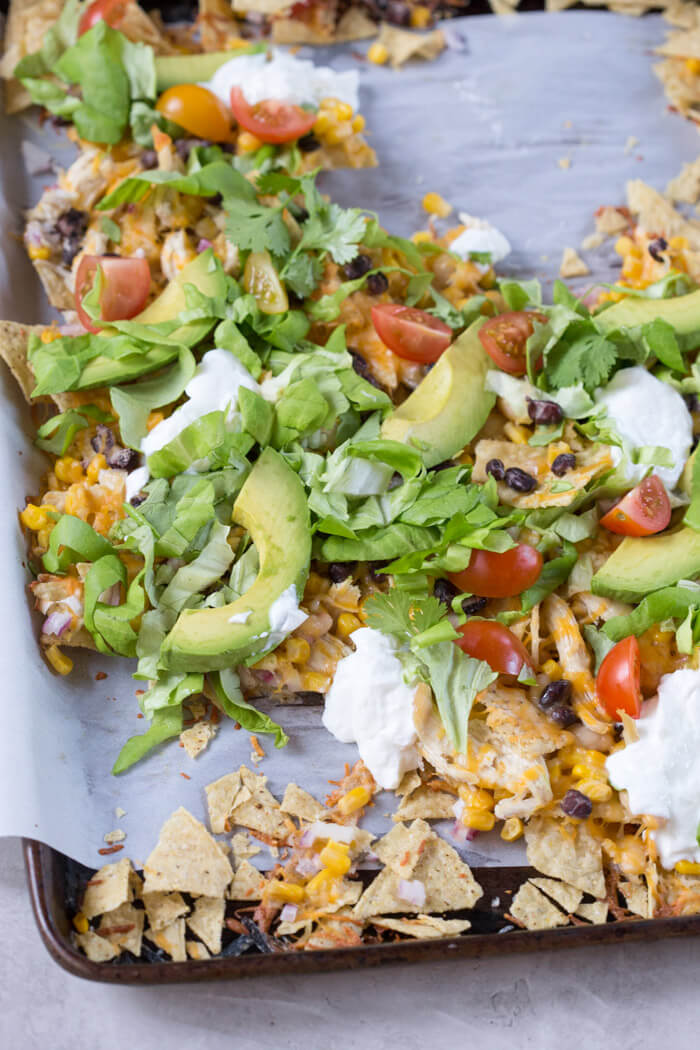 3. Chicken Fajitas Sheet Pan Dinner
The first sheet pan dinner I ever made was a version of chicken fajitas. Sheet pan fajitas are one of our favorite Taco Tuesday meals! We usually warm up some corn or flour tortillas to serve with the meal.
This recipe from Hattie Makes Three is so easy to whip together because you use precooked chicken. Perfect meal for a busy weeknight!
Sheet Pan Chicken Fajitas Hattie Makes Three
4. Chicken and Cherry Tomato Sheet Pan
Do you want a VERY easy and quick meal? This Chicken, Cherry Tomato and Green Bean sheet pan from Exploring Domesticity is so easy to throw together! You can swap out any of these veggies for what is in your fridge!
Chicken, Cherry Tomato & Green Bean Sheet Pan Exploring Domesticity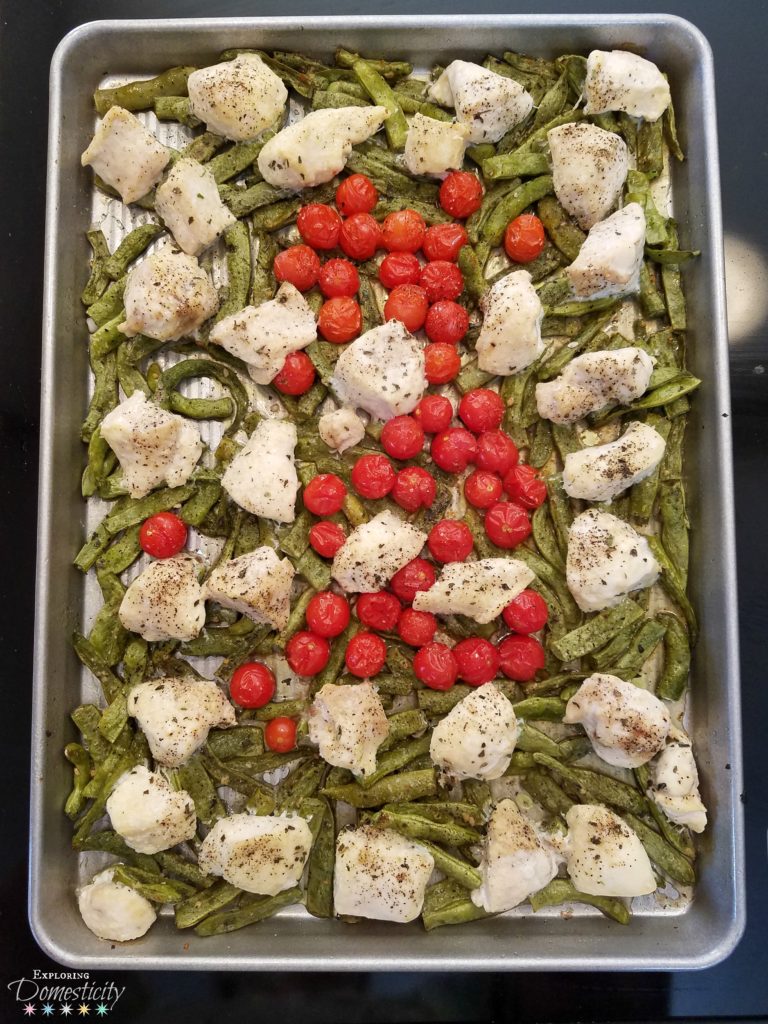 5. Roasted Garlic Herb Chicken and Potatoes Sheet Pan Recipe
The last chicken sheet pan recipe is an Herbed Chicken and Potato dish! I find that sheet pans with potatoes make for a filling meal. So, you do not need to make any side dishes!
Roasted Garlic Herb Chicken and Potatoes Salads 4 Lunch
6. Parmesan Crusted Steak and Potato Sheet Pan Dinner
Sheet Pan dinners are not just for chicken! This steak sheet pan recipe from Lemons + Zest looks so good! I've got this one on our menu for a weekend date night at home. You can easily swap out the veggies based on your preferences. The Parmesan sprinkled all over the pan would be delicious!
Parmesan Crusted Steak and Potato Sheet Pan Dinner Lemons + Zest
7. Chipotle Lime Shrimp Bake Sheet Pan Dinner
If you are looking for a really healthy dinner, this shrimp sheet pan recipe is so good! Serve this meal along with brown rice or cauliflower rice for a filling meal! This is a perfect recipe for springtime. It has nice and light flavors. This recipe would be great when asparagus is in season and the flavors of cilantro and lime sound so good!
Chipotle Lime Shrimp Bake Taste of Home
8.
Sheet Pan
Chocolate Chip Cookie Bar Dessert
Sheet pan recipes are not just for dinner! So, I have included a dessert sheet pan recipe too! The only downside to this recipe is that you might have a hard time NOT eating the entire pan These Sheet Pan Chocolate Chip Cookie from the Baking Chocolatess would disappear to quickly in my house.
Sheet Pan Chocolate Chip Cookie Bars The Baking Chocolatess
Have you tried sheet pan dinners? What is your favorite recipe?
Other Healthy and Quick Recipe Ideas:
9 Fall Salads to Make This Season
10 Refreshing Summer Salad Recipes
20+ Healthy Lunch Ideas for Moms