Happy Friday! Can you believe it is the last week of October? Next week starts the busy holiday season (in my book!). But I better not get ahead of myself. Halloween is so much fun and I can't wait to enjoy it with my crew. Anyway, as usual, I am linking up with Erika, Narci and Andrea. for Friday Favorites! I'll recap our week, share a few new fun finds and favorites!
Recapping our Niagara Falls Trip
It has been a few weeks since our trip to Niagara Falls but we are still talking about it. In case, you missed my post on Tuesday, I shared all of the details of our trip including where we stayed, ate and played!
My husband and I are really trying to cover a lot of ground (quite literally!) and show the kids the country as much as possible.
These little road trips are great for hitting some of the fun spots on our travel bucket list. P.S. We love displaying maps around the house to visually see where we've been (and where we need to go!).
We have this exact map in the boys room and they absolutely love to look at it! It is fun to "scratch off" the states and specific landmarks we have been to. You actually get to scratch off extra "rewards" when you have been to specific attractions (i.e. Washington Monument, National Parks, Disney World, etc.).
Then, we also have this pinnable map on display. We have color coded pins for place my husband and I have gone together and then a different color of pins for places we have gone together as a family.
I gave this personalized map to my husband a few years ago for Christmas. You can pick the entire color theme of the map, size, frame, and also create a custom message/word for the title of the map. This is certainly something we will treasure for a long time!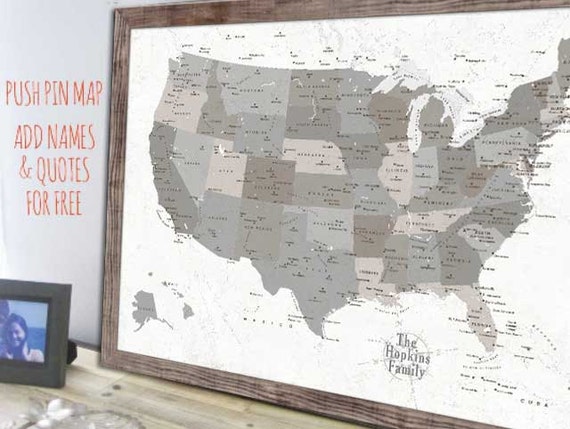 We still have a lot of places to visit!
Happy Feet with Wiiv Insoles
Speaking of personalized gifts, I've got a fun new product to share with that you can customize as well! I am loving these Wiivv customized insoles! I was so excited for the opportunity to try these custom insoles! You download the app onto your phone and with a few pictures of your feet, they digitally map your feet to create a custom product. These insoles can help with back, hip and knee pain, plantar fasciitis, foot fatigue, flat feet and arch support.
There are two insole sizes to choose from depending on what type of shoe the inserts will be going inside. I selected the full length insole as I wanted them to be used inside my gym shoes. With these insoles, my gym shoes feel SO MUCH more supportive. I feel like I am walking on clouds–yet the insoles themselves are very thin and unobtrusive.
You get to create your own beautiful insole by choosing from many different patterns and designs. I selected the pretty floral patter for the top layer and the bright red for the shell. I love seeing the cheerful floral pattern every time I put on my shoes!
I've been wearing the insoles in my gym shoes for a few weeks and they add so much support and cushion to my shoes! I literally don't even realize I am wearing them but I am noticing less foot fatigue and aches in my feet after wearing them. I like the fact that you can remove the insoles and insert them to another pair of shoes!
If you are considering insoles or are looking at ways to minimize some foot issues, I highly recommend checking out Wiivv insoles! Order your custom pair here!
**Thank you to Wiivv for providing me with these insoles in exchange for my honest review!
Clean Bath Products
Next, I've partnered with Attitude Living to talk about their bath and body products!  We are obsessed with these body care products because they smell amazing and are EWG Verified (read here for more info on this verification.) These Attitude Living products are great for children–safe to use and smells amazing!
November Family Tradition
Finally, November starts next week, which means we will begin our annual November tradition. In past years, we have had a gratitude display in our house all through the month of November. I shared more details of our tradition over on the Today Show Parenting Community. I'd love for you to read and vote on my article over there. Thank so much!!
******************************************************************
Anyway, I hope you all have a wonderful (Halloween) weekend! I'll be over here trying not to eat all of the candy corn and M & Ms:)
If you are a new visitor to the blog, thanks for popping by! Feel free to join me on Facebook, Instagram and Bloglovin! Also, if you love all things Homegoods, Marshalls and other home decor stores, be sure to join our Homegoods Happy Facebook group!