Friday Favorites: Self Care Challenge Wrap Up and Summer Graphic Tees
Happy Weekend! Today sure came fast after a four day school week! We are headed to Jellystone Park at Kozy Rest this weekend and I can't wait to share the experience with you next week! As usual, I am wrapping up the week with some favorites in home decor, family and style! This week's post includes a wrap up of the 30 Day Self Care Challenge, some adorable summer graphic tees and our latest DIY project. Can you believe May is over today?!
May Wrap Up
As crazy as a month May can be, it is also an exciting month with a lot of anticipation. One thing that really helped me stay focused was working on the 30 Day Self Care Challenge. My focus was on doing little things each day to stay healthy and a little less stressed.
While I was not perfect and I missed a few things here and there, overall, I was able to stay on track. The daily yoga and the gratitude journal were especially helpful habits! My family is still going strong with our gratitude journals. Most days I do need to remind the kids to write in their journals, but I don't mind. It is something I know is so important and beneficial.
I keep my checklist near the coffee maker so I wouldn't forget and it got a bit water logged:)
Drinking two glasses of water before coffee really helped me reduce my overall coffee intake! I will definitely keep this habit going!
I am not ready for the challenge to be over, so I will be starting a new one in June. Most of the goals will stay the same but I might add one or two! You can get your copy of the 30 Day Self Care Challenge Worksheet over HERE.
My husband and I are completing our second (breakfast) date today (just before the deadline). I would certainly like to get better about scheduling a dinner date in the month of June!
Summer Graphic Tees
Graphic tees are certainly have a moment right now. I have found myself reaching for comfy graphic tees more often than anything else in my closet right now. A cute tee and jeans or shorts is the perfect everyday, mom uniform. Graphic tees even look cute dressed up with a jean skirt!
The other day I missed out on deal over at Jane.com for an adorable graphic tee. So, every day now, I have been checking on their site to see what other summer graphic tees I can find.
These Patriotic tees are so adorable! The sweet pineapple graphic tee is my favorite! Jane has the BEST tees. I have bought several from them over the years and I loved each of them.
These sweet Bee Kind tee is super cute and a great, positive message to spread around! There are a bunch of other colors and messages to choose from.
There are TOO many good graphic tee options right now. We are headed to Disney in the late Fall. So, I love these Disney tees for the whole family! I ordered a matching set for our entire family.
These summer vibes tees (and tanks) are so adorable. You can order any of the designs in a t-shirt or tank and in several color options!
Graphic tees can be found at every store! I just ordered this Summer Fridays graphic tee after seeing a fellow blogger share on Instagram. It's fun to pair a tee with a skirt. I love how she tied the tee in a knot.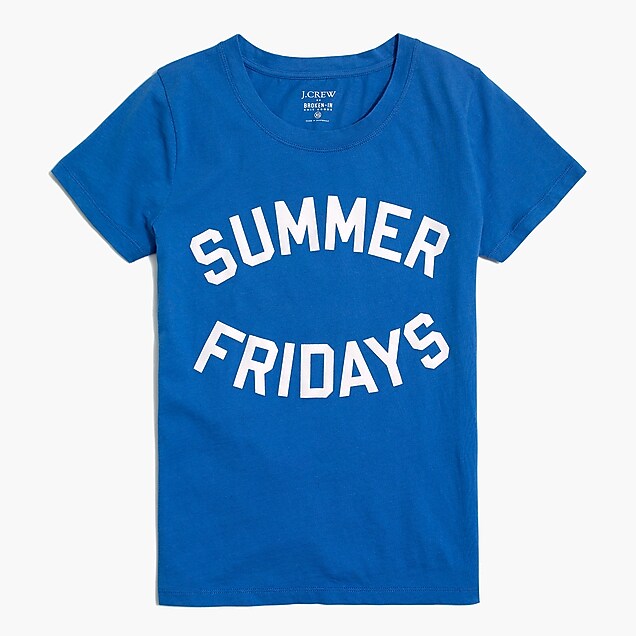 Do you like to wear fun tees? I think they are perfect for casual days with the kids. When it gets chilly, you can just throw on cardigan or jean jacket and you still have a cute look.
Memorial Weekend
I hope you had a fun Memorial Day weekend. We did a lot of swimming, eating and hanging out with friends. We even managed to fit in a last minute DIY project. I'll share the details soon on how to make a Backyard Jenga Set! It took us just about 2 hours to make this set.
The kids have been playing Jenga every day since we made it. A fun backyard activity that we can enjoy all summer long.
Summer Activity List
Are you starting to think about what to do with the kids all summer? We have been jotting down some of ideas for our summer fun list. Here are 60+ Amazing Summer Activities from the Everyday Mom Squad. Our snack taste test was included in this round up. We will definitely do another taste test…maybe this year with ice cream:)
It is easy to get overwhelmed or feel the pressure to give kids the best summer possible. But let's face it, some of our best memories are those lazy summer days at home! Make a list of a few summer activities you really want to do and then leave enough time for relaxing and unstructured days!
This Week on the Blog
Yesterday, I shared a new fun way to help the kids do their chores! Now that summer is here, we will get better about the kids helping around the house. The kids are motivated to help around the house for screen time and extra spending money!  You can read the full post HERE!
Next week, I will be back with a recap of our trip and also, I hope to share a fun Father's Day DIY gift idea with you! It will be a hectic week with the kids finishing up their last four days!
********************************************************************************
Now, I need to get to packing for our camping trip! I'll be sharing our experience at Kozy Rest over on Instagram this weekend so you can follow along! I am linking up with Erika, Narci and Andrea for this Friday Favorites post, so be sure to head over to their blogs as well!l!