Happy Wednesday! I hope you a great Thanksgiving! It was a busy week between wrapping up Thanksgiving festivities and prepping for Christmas. So I did not get a chance to write a blog post earlier in the week. However, tomorrow I have a very FUN AND FESTIVE post as I am teaming up with six bloggers for a Cozy Holiday Home Tour. In the meantime, today's post is a wrap up of the month and my November favorites! I am linking up with Shay, Sheaffer, and Mel for What's Up Wednesday.
What We are Eating…
The first part of the week, it was all about leftovers and now we can not look at turkey and stuffing for a few weeks 🙂 Last month, I shared that we purchased this Instant Pot. We are really happy with it and I've been making this Instant Pot Zuppa Tuscana Soup every week! It is so good and I love the leftovers even more than the first serving!
We are keeping things simple this week after a week of eating all the good stuff!
Monday: Roasted Chicken and Veggies
Tuesday: Grilled Cheese and Chicken Noodle Soup
Wednesday: Spaghetti Bolgonese
Thursday: Breakfast for Dinner
Friday: Pizza
In case you didn't catch my post on Friday, I talked about my favorite personalized holiday plates, from Kerri Makes. This is our second set of these plates and we love them!! There are a TON of designs to choose from. I opted for winter themed plates so that we can use them after Christmas!
But the Christmas plates options  are pretty darn cute! These plates would be so cute to use on Christmas morning!
Kerri is offering 25% off to my blog readers until Thursday 11:59 EST. Use Coffee25 at Checkout to receive the discount! 
What am I dreading…
Maybe putting away the holiday decorations? Although I do always seem to be ready for a clean and simple house after the holidays. But putting everything back into the bins and then the attic is not fun!!
What I'm looking forward to…
Checking everything off of our Christmas tradition list! This was our list from last year and we have just a couple things to add. But otherwise, we stick to the same traditions.
What I am working on….
All things Christmas! The day after Thanksgiving, we flipped the switch to Christmas. Tomorrow, I am part of an online holiday home tour with six other bloggers. I have been working hard on getting ready for this tour. Be sure to pop back by tomorrow to see our Cozy Holiday Home Tour!
What I am wearing….
All the cozy accessories! Every season it happens, the first time it gets cold outside, I am digging around our closets trying to find everyone's warm weather gear. Inevitably, we end up needing new hats or gloves because we can't locate everything.
This year, I have been all about cute and cozy pom hats. I got this one from Amazon last week. I love it because it has fleece on the inside so it is warm and not scratchy! There are a ton of color options of this hat and you can not beat the price.
I also got this neutral colored, striped hat from Gap too.  I love that this hat goes with my dressier, camel colored winter coat.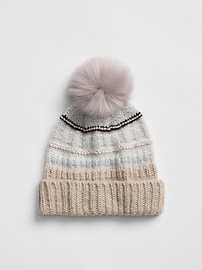 I didn't think I liked wearing winter hats because it flattened out my hair. But now I am realizing that these hats hid messy hair..ha ha!
What I am watching…
Over the Thanksgiving break we started watching all of our favorite Christmas movies! So far we have watched Elf,  the Grinch, Christmas Story and Love Actually (just my husband and I on that one!). The kids had not seen the Christmas Story yet and they loved it. The movie was filmed in Cleveland, so now the kids are dying to visit the Christmas Story house and museum. This is the actual house that was used in filming. So we will be adding that to our Christmas activity list.
Also, over the Thanksgiving break, we started to watch the Netflix series called The Series of Unfortunate Events. Whether or not your kids have read the book series (which my daughter has), it is a great show!
It is a  bit of a darker show, so I'd say it is geared for the older elementary school set and older. My six year old did not watch it with us.  My husband and I are really enjoying the series too. Neil Patrick Harris is one of the main characters and he plays a role that is nothing like he has played before.  We are only partway through season 1. We want to finish the first two seasons before season 3 comes out in January.
What I am reading…
I just started reading this book last week and I have not made time to finish it yet. I love Jodi Piccoult and her books always approach tough topics from various viewpoints. So far this one is very good and I need to finish it up soon!!
**************************************************
That wraps up my November favorites. Be sure to stop by here tomorrow for the Cozy Holiday Home Tour with six other of my favorite bloggers!!