17+ Valentine's Day Ideas for Kids and Families
Are you looking for cute and simple things to do with your family for Valentine's Day. I've rounded up over 17 Easy Valentine's Day Ideas Kids and Families!
*Some affiliate links used.
How do you celebrate Valentine's Day with your kids?
Ever since the kids were little, we have been celebrating Valentine's Day as a family. It is a lot easier to celebrate as a family then to try to squeeze in a date night alone! Now that the kids are a little older, my husband and I do sometimes go out for Valentine's Day. But I still like to celebrate the holiday with the kids! It is fun to surprise them with little Valentine treats.

Fun Ways to Celebrate Valentine's Day with Kids
I've rounded up all of my Valentine's Day posts in one spot. Plus, I've got some of the best Valentine's Day celebration ideas from some of my favorite bloggers. I am sharing some of the best Valentine's Day Ideas for Kids!
Make Valentine's Day Themed Foods
Valentine's Day Breakfast: A few years ago I started a Valentine's Day breakfast tradition and it has been a favorite meal ever since! You can make just about anything into a heart shape! I used refrigerated cinnamon rolls and dyed the frosting pink for these heart shaped rolls. Just unroll each cinnamon roll and then re-roll into a heart shape.
Set up a Valentine's Hot Cocoa Bar: Use a tray to organize all the fixing for a Hot Chocolate station. Look for heart shaped, pink marshmallows for a really festive treat!
Fruit Kabob Love Arrows: Looking for a healthy Valentine's Day snack option? These Fruit Arrows are super easy to make.
Valentine's Charcuterie Board Last year, we made our Valentine's Dinner super easy with this heart themed Charcuterie Board! There is something for everyone when it comes to a charcuterie board, especially when it involves Valentine's Day treats!
Make a DIY Pancake or Waffle Bar: Another breakfast idea that the kids will love! Make a big batch of waffles or pancakes and then set out a bunch of toppings.  Some Valentine's themed waffle/pancake bar toppings include strawberries, chocolate chips, candy conversation hearts, whipped cream and red and pink sprinkles! This mini heart shaped waffle maker is adorable!! (  have the pumpkin shaped version of this waffle machine).
Create Your Own Sundae Bar: Can there ever be enough sweets and treats on Valentine's Day? This year, I think we will have a Valentine's Day movie night and a make your own sundae bar. Just like the waffle bar, include a lot of fun Valentine's themed toppings. Think pink ice cream or sherbet, strawberry sauce, cherries and Valentine's candy!
Printables for Kids
School Lunch Valentine's Notes: These Valentine's Day puny fruit notes from Miss Sue Living are so adorable! Pick your child's favorite fruit and then attach one of these cute school lunch notes.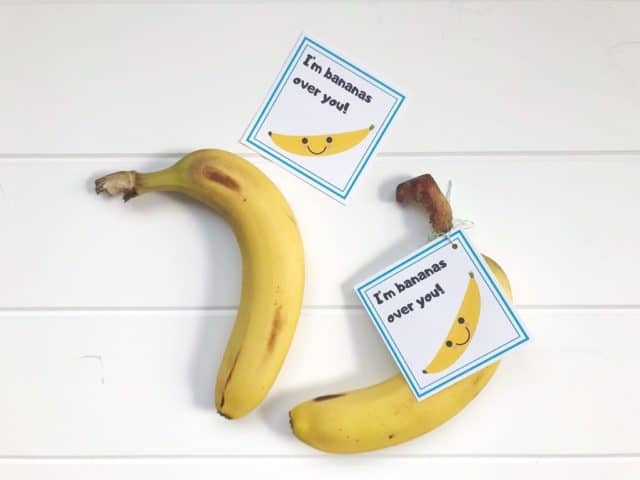 Snack Bags Printable: Do you have any "stud muffins" in your family? He he. Make up a batch of your favorite muffins and attach these Stud Muffin Gift Tags from Lake Life State of Mind (or make her delicious Fruit and Nut Muffins!)
Valentine's Play Dough: This idea could be a fun craft or class treat bag idea for the kids! Homemade play dough is the best! It has a nice smell and it is just a few household ingredients. You and the kids could make a big batch of this Valentine's Play Dough and share with some friends or classmates.
Kids Crafts and Activities
Heart Tissue Paper Craft: I love crafts that look cute as decor. These Valentine's Day tissue hearts from Live Well Play Together  look so cute displayed on windows. You can find inexpensive tissue paper at the Dollar Store. This craft is so inexpensive!
Paper Heart Garland: Another super easy and cute Valentine's craft project to do with the kids is this paper heart garland.
How to Make Paper Heart Garland
1. Cut out 10-12 paper hearts in pink and red construction paper.
2.  Make two hole punches at the top of the hearts.
3. Thread twine through the hearts.
4. Adjust the hearts to they are evenly space. Display on a mantle or shelf!
Why I Love You Chalkboard: Express just how much you love each other with a "I love you because.. Chalkboard". If you do not have a chalkboard, you could make a poster or big piece of paper to display.
Valentine's Family Mailbox: Another sweet idea to show your family how much you love them is to make these Family Valentine's Mailboxes from Keri Lynn Snyder. This is such a sweet, no cost Valentine's idea.
Decorate the House: My kids always notice when I put out the holiday decor! It is the little things that add up to big memories. For a really inexpensive Valentine's Day decor idea, get an inexpensive pack of paper doilie hearts and put them all over the house:) It is amazing that a few little hearts can transform a space into a Valentine's Day wonderland. If it is something your kids would enjoy, include them in the holiday decorating process! Let them make decisions on where different Valentine's decorations should go.

Family Movie Night: Pick a "love themed" family movie to watch together. This is a cute list of Family Friendly Valentine's Movies. Don't forget the popcorn and maybe a few Valentine's candy treats!
Valentine's Day Gifts for Kids
Handwritten Notes or Cards: Valentine's Day gifts for the kids do not have to cost any money! You could write a personal, hand written note to your kids telling them why you love them. They will treasure those notes forever!
Inexpensive Valentine's Gift Ideas: While gift giving for every holiday is not for everyone, it is something I enjoy doing for the kids. Even when we just get candy and a card for each of the kids, they are so happy. You can get more Valentine's Day gift ideas for kids in this post!
Celebrating Valentine's Day With Kids
Valentine's Day is a great excuse to show and tell your family how much you love them! You do not have to spend any money to leave lasting memory for your kids and family!
Looking for more Valentine's Day ideas, check out these posts:
Valentine's Playdough Printables
17+ Valentine's Day Ideas for Kids